Glendermott and Drumahoe P.S. Choir
12th Jan 2017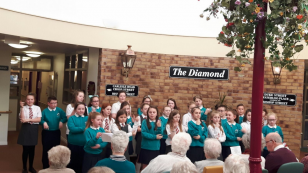 A joint choir from Glendermott P.S. and Drumahoe P.S attended Seven Oaks fold in Crescent link to participate in a carol singing performance for the residents.
The children came together for a rehearsal in Drumahoe prior to travelling to the fold for the afternoon.
Both pupils and residents had a thoroughly enjoyable afternoon.
Glendermott Primary School & Nusery Unit, 50 Ardmore Rd, Derry Northern Ireland BT47 3QZ
Phone: 028 7134 9489