Year 4
Welcome to Primary 4
Our School Day
9:00 School Starts
10:30 -10:45 Break
12.30- 1:15 Lunch
2.45 Bus
3.00 Home
Timetable:
Tuesdays and Thursdays - PE
Friday – Golden Time
Homework:
Spellings, mental maths and activities are sent home on a Monday, these should be completed at home and should not be returned to school
Reading books get sent home on a Monday and are returned on a Friday
Online Maths homework either My Maths or Topmarks
Religion/World Around Us homework
Curriculum
Literacy We are following the Linguistic Phonics Programme and complete daily phonics lessons, we also complete Reading and Writing tasks.
Numeracy We will be learning about Processes in Maths, Number, Data Handling, Measures and Shape and Space.
World Around Us
Out topics this year are:
Term 1: Over the Rainbow and Good Vibrations
Term 2: Going on a Journey and Easter
Term 3: Food Glorious Food
Personal Development and Mutual Understanding We look at areas of our personal and emotional development, health and safety, relationships with others, and how we can all work together for the good of our community.
The Arts In Primary 4 we look at a variety of music, dance and art activities through our cross curricular topics.
Religion This is a very important year for Primary 4 as look forward to the Sacraments of Reconciliation and First Holy Communion. We will be following the Grow in Love Religion programme in Primary 4 this year.
TSPC Thinking skills and Personal Capabilities are tools that help children to search for learning, apply ideas, analyse patterns and relationships, create and design something new and monitor and evaluate their progress. It develops life skills and capabilities to make a positive contribution to society.
Latest Photographs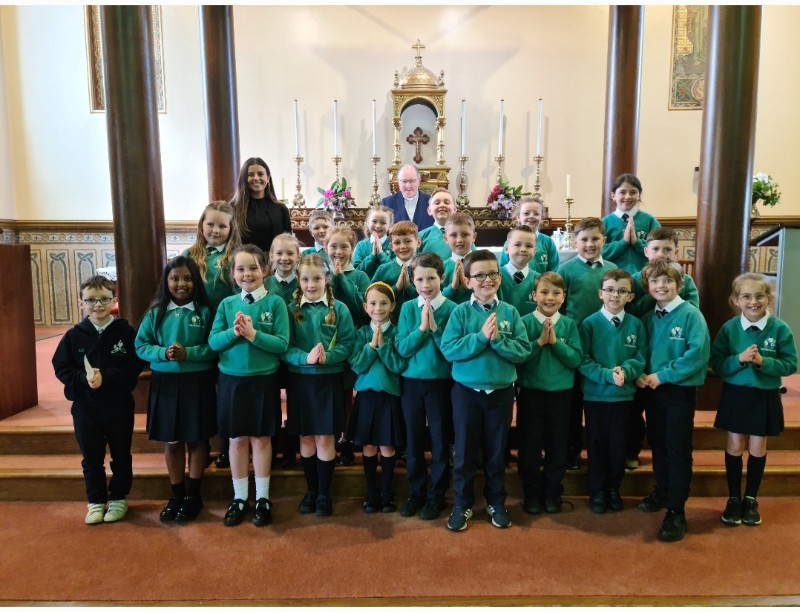 Glendermott Primary School & Nusery Unit, 50 Ardmore Rd, Derry Northern Ireland BT47 3QZ
Phone: 028 7134 9489