Year 3
Welcome to Primary 3
In Primary 3 pupils begin their first year in Key Stage 1. P3 is a year filled with fun activities from across the whole curriculum, helping to nurture and progress each individual child.
Timetable:
Monday & Thursday - Gaelic Fundamentals & P.E. Pupils should come to school in their full PE uniform
Thursday - Library. Pupils should bring their library books to school and change books weekly
Friday - Weekly spelling and numeracy test
Homework:
Homework in Primary 3 is given home on a Monday and taken back to school on a Friday.
Reading is sent home each day. Reading should be heard every evening at home and the reading record book should be signed. Pupils should bring their reading books to school each day.
Curriculum:
Literacy - In Primary 3 we follow the Linguistic Phonics Programme and complete daily phonics lessons. Primary 3 also take part in Handwriting lessons each morning. We also complete a lots of different Reading and Writing tasks, covering a range of genres such as poetry, letter writing etc.
Numeracy - Primary 3 will be learning lots about Processes in Numeracy, looking at Number, Data Handling, Measures and Shape and Space. Pupils will also play a range of mental maths games before each Numeracy lesson. Numeracy is made even more creative and fun through the use of games, iPad's and the interactive whiteboard etc.
World Around Us - Here are some of the exciting topics we can look forward to studying this year. These stimulating topics will mean there will be lots to keep us busy and lots of cross curricular links to enjoy:
Celebrations
Christmas
Safe & Sound
Houses & Homes
Whatever the Weather
Bugs, Birds & Beasts
Personal Development and Mutual Understanding - We follow the Paths Programme. We all love PDMU because we get to explore our personal and emotional development, health and safety, relationships with others, and how we can all work together for the good of our community. We are able to discuss all our hopes and fears in a safe environment during Circle Time and we can also have fun in doing so.
P.E. – P.E. for Primary 3 will take place on a Monday and Thursday. Please bring the appropriate P.E. kit.
The Arts - In Primary 3 we are exposed to lots of wonderful opportunities to be creative. We get to use a range of materials and media to express ourselves, such as paint, clay, pastels etc. We especially love participating in a variety of music, dance and art activities that we are able to complete through our cross curricular topics.
We have Musical Pathways on Tuesday
Religion - We will be following the Grow in Love Religion programme and learn about the different celebrations in the church year. Fr McGrory will also visit us throughout the year to spread the word of God.
Class Photograph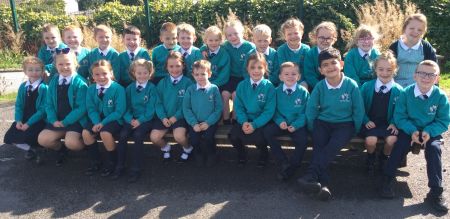 &nsbp;
Glendermott Primary School & Nusery Unit, 50 Ardmore Rd, Derry Northern Ireland BT47 3QZ
Phone: 028 7134 9489