P7 Weekly Tasks
Weekly P7 activities 22.6.2020
Good morning P7, I hope you're all keeping well and staying safe.
Welcome to your last week as Primary 7! It's so sad we're not in school to enjoy this time together!
If you have any worries or concerns about starting big school in September- you can contact Mr O'Kane or MrDuddy at anytime and we'll do our best to help you out, but we both have every confidence that you are ready for First year and you'll all do really well at 'Big' school!
The main focus this week is Sports Day! See the link for more details: https://sway.office.com/FbFkNIDqbD9ijJ8X?ref=Link&loc=play
I'd like to see some P7 submissions for my Art Challenge and Great Glendermott Bake Off - more details in latest newsletter. June Newsletter
Theme Park Maths- this is a maths project just added- there's lots of maths here it will take quite a while, try and do a section each week- a fun way to learn about running your own business- profit and loss!
How are we getting on with the Theme Park Maths?
Keep active! Plenty of exercise- practice striking with your hurl- practice your keepie uppies, go for a walk or a run- remember to observe social distancing!
Read, read and read some more!
Spelling & Proof Reading Activities
Mental Health Awareness Week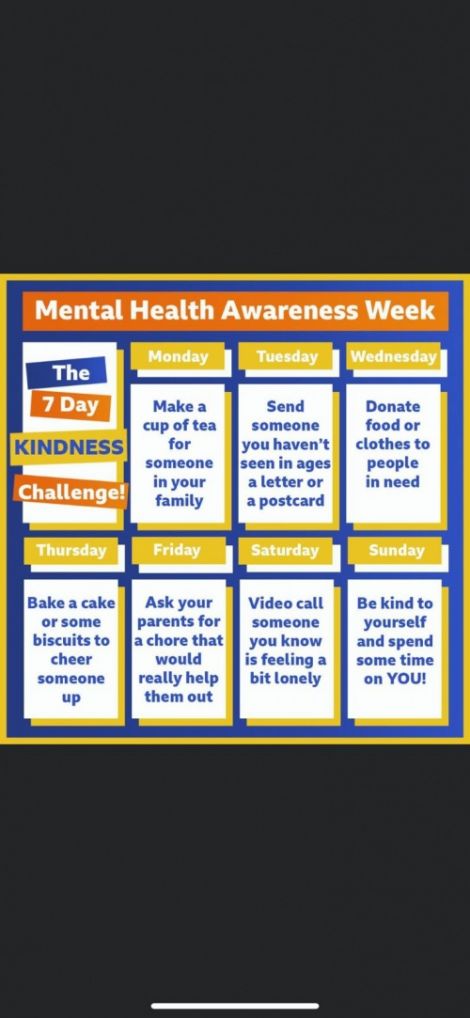 This is Mental Health Awareness Week use the photo and try to comply each activity every day. Remember it's important to talk!
Glendermott Primary School & Nusery Unit, 50 Ardmore Rd, Derry Northern Ireland BT47 3QZ
Phone: 028 7134 9489